Ecard: Always you
When you're down and troubled, you feel alone and nothing is going right… remember that a real friend will always be there to brighten up even your darkest moments. If the sky above you grows dark and full of clouds, you just have to call him/her! Your good friend will come running to wherever you are, to be by your side and help you in anything you ask him to. Use this great friendship ecard to thank your friends for their unconditional support. Because when that friend appears… isn't it like if you just found an oasis in the middle of the desert?
Personalize this animated ecard with whichever message you want and send it by email or share it on your Facebook wall so everyone can see how much he or she means to you. The best animated, free greeting ecards are in Cuteki.
As the famous song says… ain't it good to know that you've got a friend? Then let him/her know what he/she really means to you with this cute and exclusive
animated ecard!
For that friend who never deserts you, whether it rains or snows. A special
personalized
ecard
for a special friend.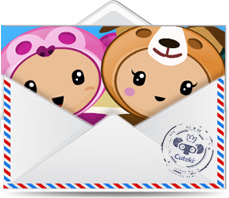 FREE Ecard for all Cuteki users. You can send this card free to anyone, without registration or payment of fees.

Share this card with your friends on facebook and twitter, with a direct link or by email.

Write and personalize this animated card with your own text. Surprise that special someone with your personalized message inside the ecard.