Ecard: Lil whale of love
Oops! But… where am I? It's very dark down here… Wow, I've been swallowed up by a whale! At least this is not like the Pinocchio's one! Hehehe...
Are you in love? Do you want to tell that special person what he or she means to you?
Or do you simply want to say thank you to someone special? If you're looking for an original, new and unique way to show how you feel, try with this funny whale!
Isn't it lovely? And… have you seen that cute little monkey on the coconut tree? Make him jump! Hide in the belly of this whale and express your feelings with this personalized card. You won't find it anywhere else, because you are the protagonist here. With this animated ecard for Facebook or email you can choose your picture, type a personalized message and… done!
Share your
free
love ecard
on your Facebook wall or send it by email. Cuteki makes it easy. Come on, what are you waiting for? Greet your friends, family and loved ones with this
original love ecard
! Because you love them deep down!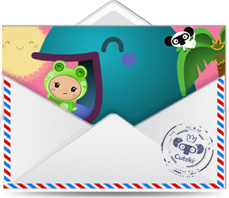 FREE Ecard for all Cuteki users. You can send this card free to anyone, without registration or payment of fees.

Share this card with your friends on facebook and twitter, with a direct link or by email.

You can customize your ecard with a face pic. Personalize it and make it unique, original and fun!

Write and personalize this animated card with your own text. Surprise that special someone with your personalized message inside the ecard.