Free Ecards
Free eCards from Cuteki for every cute and special occasion. Share your emotions by sending Cuteki e-cards, animated cards, and online greetings for friends and family for every special occasion or no occasion at all! Personalized eCards, birthday eCards, online love cards, anniversary greeting cards, or hallowen eCards.... Create custom greeting cards and share them on facebook, Twitter, and by email.
CUTEKI ANDROID APPS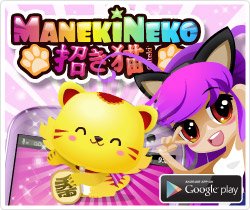 MANEKI NEKO / Japanese Lucky Cat
Maneki-Neko is a special Japanese cat that brings prosperity and happiness to its owner. Maneki Neko can now be yours to carry with you everywhere on your mobile phone or your tablet!