Ecard: Greetings from far away
Are you tired of the typical, old-fashioned greeting cards? If you're looking for something new and different, stop searching: you came to the right place! Cuteki offers you the best selection of free greeting cards for Facebook and email.
Fly across the universe and spread all your love with this amazing animated and personalized love ecard. It's very simple: you choose the picture that will become the face of this cute character and then you type a personalized message for that special person. That's why they won't find this romantic ecard anywhere else! With this animated and free ecard, 100% unique and personalized, you're the absolute author and protagonist of the message.
Come on, what are you waiting for?! You can post the
animated
love ecard
on
Facebook
or send it by
email
to whoever you want
for free
. Explore the outer space and make your
personalized
love message
fly up high. Send your love into space, to the stars… and beyond!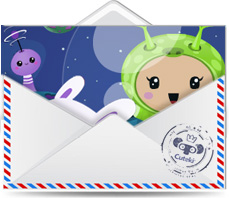 FREE Ecard for all Cuteki users. You can send this card free to anyone, without registration or payment of fees.

Share this card with your friends on facebook and twitter, with a direct link or by email.

You can customize your ecard with a face pic. Personalize it and make it unique, original and fun!

Write and personalize this animated card with your own text. Surprise that special someone with your personalized message inside the ecard.