Ecard: Pop art
What's going on behind that painting? A funny French-looking skeleton is painting a beautiful oil for you!
Let your best friends know what they mean to you on the most original way: with this animated and personalized ecard. Because your friends are a real work of art! So now you know what to do: dedicate them an artistic and colorful painting with this original animated ecard for email and Facebook that Cuteki has prepared specially for you. Paint up your life with funny colors! It's very easy: you just have to upload a friend's picture and Cuteki will turn it into a real pop art painting. After that, send it by email or share it on Facebook, for free. This is a 100% personalized ecard, so your friend won't find it anywhere else.
Pop art takes popular images and turns them into pieces of art for everyone, and that's what Cuteki does: we offer you the best greeting ecards and absolutely free!
Greet your friend and make him/her the protagonist of this canvas. Make him/her become more famous than Warhol's Marilyn!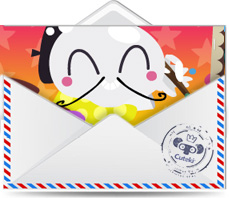 FREE Ecard for all Cuteki users. You can send this card free to anyone, without registration or payment of fees.

Share this card with your friends on facebook and twitter, with a direct link or by email.

You can customize your ecard with a face pic. Personalize it and make it unique, original and fun!