Ecard: The letter
Booooo… Do you dare to enter that creepy castle on the top of the hill? Remember that you must cross the graveyard to get there first! Hold on… there's light in that window up there! Who can hide inside? Wow, it's Nosferatus! (Nosfy for friends). He doesn't look as scary as in the movies. But what is he doing? Oh, he's writing a lovely friendship card! Nosfy, we got you!
If you wanna do the same as Nosfy and send a beautiful message to that special friend, now you can do it with this funny, animated and personalized ecard. Place the picture of your friend into the frame and type the message you want: a poem, your greetings or whatever you prefer. After that, all you have to do is send the personalized ecard by mail or share it on your Facebook wall, for free. As long as you choose the picture and text, your friend won't find this ecard anywhere else.
Oh, be aware of the painting that hangs behind Nosfy… Don't leave without saying goodbye to the funny skeleton!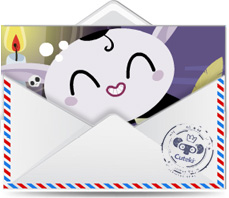 FREE Ecard for all Cuteki users. You can send this card free to anyone, without registration or payment of fees.

Share this card with your friends on facebook and twitter, with a direct link or by email.

You can customize your ecard with a face pic. Personalize it and make it unique, original and fun!

Write and personalize this animated card with your own text. Surprise that special someone with your personalized message inside the ecard.