Ecard: Love soup
You spend all your day staring at that phone, waiting for it to ring, but he never calls… You can't stop thinking about that person that you haven't seen for a long time? It's been a while since you last talked to him and now you don't know how to tell him you miss him. You can't stop thinking about him and there's nothing you can do about it, right? Okay, well, don't worry: with Cuteki's personalized ecards it will all be much easier! You can personalize this funny animated ecard by typing the name of that special person and it will appear in the letter soup! Then, you can send the personalized ecard by email or share it on your Facebook wall. Oh, and it's totally free!
Don't think twice and surprise that special person with this cool personalized ecard.
Let him know you miss him in the most original way! Honey… all I'm thinking about is you!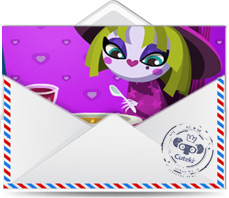 FREE Ecard for all Cuteki users. You can send this card free to anyone, without registration or payment of fees.

Share this card with your friends on facebook and twitter, with a direct link or by email.

Write and personalize this animated card with your own text. Surprise that special someone with your personalized message inside the ecard.