Ecard: Birthday cake
Happy birthday! If your birthday girl or boy loves cakes, he/she will absolutely adore this huge and sweet strawberry cake! Tired of the typical birthday cards? Don't be old fashioned! Now you can personalize this delicious animated ecard with your own message. This birthday ecard will be the paradise itself for cupcake, candy, cake and cream lovers. Then, you'll just have to send it by email or share it on your Facebook wall so all your friends can see it.
And all for free! Place the candles with his/her age and personalize this giant and luscious cake specially for your friends or familiars. Everyone's invited to this funny birthday party!
Because today it's his/her special day, make him/her a very special gift with this unique
birthday ecard
. As it is completely
personalized
, they won't find it anywhere else. Yummy!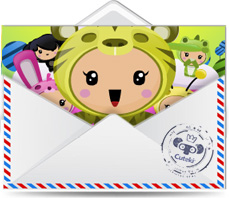 FREE Ecard for all Cuteki users. You can send this card free to anyone, without registration or payment of fees.

Share this card with your friends on facebook and twitter, with a direct link or by email.

You can customize your ecard with a face pic. Personalize it and make it unique, original and fun!

Write and personalize this animated card with your own text. Surprise that special someone with your personalized message inside the ecard.