Ecard: My pic with Balthasar
When you were a child you always argued with the other kids to be the first one to sit on Balthazar's knees? If you love the Black King, then you'll love this personalizable free ecard. Have you been a good boy/girl this year? Did you already write your letter for the Three Kings? Yep? Then, what are you waiting for to sit on Balthazar's lap and ask him for eeeeverything you want? Look at the camel behind the curtain. He's very sweet, isn't he? Say "cheeeeese", Balthazar's little helper will take a photo of you with your favorite King!
If you are looking for a different and funny Christmas card, Cuteki offers you an innovative way to wish a merry Christmas. With our fully personalized ecards, you can pick your favorite Christmas' character and personalize the ecard with your picture and your message.
Next, you'll only have to send the
personalized ecard by email or share it on your Facebook profile.
It's totally
free
! Cuteki makes you its particular
Christmas
gift. You love it, right? Merry
Christmas
!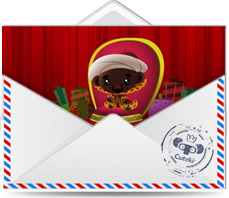 FREE Ecard for all Cuteki users. You can send this card free to anyone, without registration or payment of fees.

Share this card with your friends on facebook and twitter, with a direct link or by email.

You can customize your ecard with a face pic. Personalize it and make it unique, original and fun!

Write and personalize this animated card with your own text. Surprise that special someone with your personalized message inside the ecard.