Ecard: I am going on my vacation
You spent the whole year closed at the office, in front of the screen's blinding light, dealing with annoying customers and the insupportable boss… but now it's time to forget about all that! Because at last, your time has come: you're free! The holidays are here!
It's time for you to take a deserved break. If the arrival of your holidays makes you as happy as this working little bee, celebrate it with this free animated ecard and let everybody know that you are on holiday! With this cute animated ecard you can choose a photograph, write a personal message for your contacts and start sending it to all of them, by email or Facebook.
This holiday, make them jealous with this ecard for Facebook and email. You can send it to everybody or simply share it on your Facebook wall so everyone can see it! This year, surprise all your friends with this funny ecard!
Forget stress and tell everybody you are on holiday. Grab your suitcase, fly to a deserted island and just lay out in the sun. Relax and enjoy your vacation, you worth it!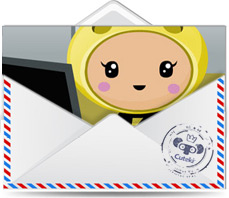 FREE Ecard for all Cuteki users. You can send this card free to anyone, without registration or payment of fees.

Share this card with your friends on facebook and twitter, with a direct link or by email.

Write and personalize this animated card with your own text. Surprise that special someone with your personalized message inside the ecard.