Ecard: Bethlehem nativity scene
Come on, let's go to Bethlehem, the Child Jesus has been born! The shepherds are crowding the portal! But what's this? The sheeps are invading the Nativity scene while Jesus, Mary and Joseph watch it with their eyes wide open, unbelievable! Everybody there, also the mule and the bull, are waiting for you in Bethlehem. What are you waiting for to join them?
This year, wish a merry Christmas with this personalizable ecard for Facebook or email. Personalize now this sweet animated ecard with your own message and send it for free by email or Facebook. And not only to the family! Because you can send this ecard for free to everyone you want. Wishing a merry Christmas in the most original way it's at your reach. Your family and friends have never seen a Christmas card like this one before. Irresistible, right?
Remember, if you want to wish a merry
Christmas
, full of love, peace and prosperity, now you can do it with Cuteki and its
animated free ecards
. Greet
Christmas
in the funniest way!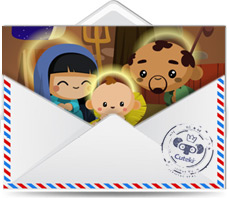 FREE Ecard for all Cuteki users. You can send this card free to anyone, without registration or payment of fees.

Share this card with your friends on facebook and twitter, with a direct link or by email.

Write and personalize this animated card with your own text. Surprise that special someone with your personalized message inside the ecard.