Ecard: Snowball fight!
Hi there! I think this little Santa Claus' elf has something to tell you… so aim, shoot and blast a snowball in his face before he does it! Wish a merry Christmas in a very original and funny way with this animated and interactive ecard by Cuteki. Surprise all your friends and relatives and invite them to join this crazy game. Doesn't the elf look like you? That's because with Cuteki, you can personalize the ecards with your photo!
So if you are tired of the typical Christmas cards, you know: this is a great option to wish them all a merry Christmas and a happy New Year. Once you have personalized the ecard, you can send it by email or share it on Facebook. This way, all your contacts can play the funny game! If you're looking for a brand new, different Christmas card, Cuteki offers you a fast and innovative way to greet the season with this card-game.
Did we mention that this cool
ecard
is also totally
free
? Don't think twice and challenge your friends. Shoot the snowballs straight to the elf's face!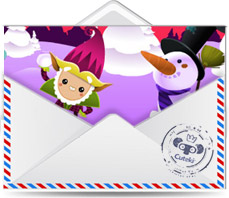 FREE Ecard for all Cuteki users. You can send this card free to anyone, without registration or payment of fees.

Share this card with your friends on facebook and twitter, with a direct link or by email.

You can customize your ecard with a face pic. Personalize it and make it unique, original and fun!

Interactive card that lets you interact with the elements, scenarios or characters that make up this virtual postcard.