Ecard: Happy Easter
Knock knock! Who's hiding inside this cute Easter egg? Calimero? No! Of course, who else but the famous Easter Bunny!
Wish a happy Easter with this sweet little bunny under the eggshell. Even the funny hens have their eyes wide open, and that's because this Cuteki ecard is absolutely amazing. Cuteki reinterprets the colourful Easter eggs with this animated and personalized ecard. Upload your photo into the ecard and type the message you want to greet this beautiful day. It's very easy, and after that all you'll have to do is send the personalized ecard by email or share it on your Facebook wall. Wish a merry Easter day in a very original way with this stunning ecard. They say that the Easter Bunny painted some eggs with vibrant colours as a symbol of happiness, and now you can celebrate this day with this happy ecard.
Surprise everybody with this new, 2.0 version of the Easter Bunny! There's no mystery in finding out where the Easter egg hides here… it's hidden in this
animated ecard
by Cuteki!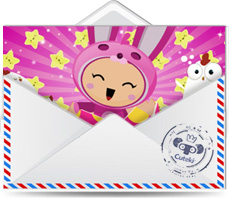 FREE Ecard for all Cuteki users. You can send this card free to anyone, without registration or payment of fees.

Share this card with your friends on facebook and twitter, with a direct link or by email.

You can customize your ecard with a face pic. Personalize it and make it unique, original and fun!

Write and personalize this animated card with your own text. Surprise that special someone with your personalized message inside the ecard.