Ecard: New baby is on its way
Oh, how nervous we are! Our baby's on the way! A stork is carrying it from far, far away!
You're so happy with the news that you want to let everyone know it! You love the little baby, he's so cute! Then, what are you waiting for? Share your happiness with family, friends… with everybody, actually! With this personalizable ecard, Cuteki offers you a funny and imaginative way to announce that you're pregnant or that the baby has arrived.
You can also use this animated ecard to congratulate the upcoming parents: as you can personalize the ecard however you want, you will be able to write any message you choose and then add it into the animated ecard. And wait, that's not all! You can also include a picture of the newborn if you already have one! The baby is so sweet! After that you will only have to send the ecard by email or publish it on Facebook. Let everyone know the happy news!
Announce the arrival of your kid or congratulate the future parents with this original
personalized ecard
. Here comes our baby!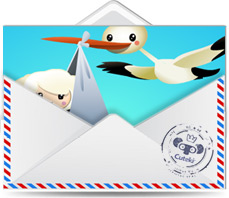 FREE Ecard for all Cuteki users. You can send this card free to anyone, without registration or payment of fees.

Share this card with your friends on facebook and twitter, with a direct link or by email.

Write and personalize this animated card with your own text. Surprise that special someone with your personalized message inside the ecard.