Ecard: Presenting our baby
Congratulations! You have just had a baby and now it's time for presentations! You will sure want all your family and friends to know the name of the little one. If you are so happy with your baby that you want everybody to meet him/her, this animated ecard is exactly what you were looking for.
How does it work? It's so easy! Cuteki presents its personalized animated ecards, 100% exclusive. This means that you won't find them anywhere else, and that they are unique because you can personalize them at your choice. You will only have to type your baby's name and it will automatically appear at the ecard. It's very simple, isn't it? When you have personalized it, you can send the animated ecard by email or share it on your Facebook wall so everyone can meet your baby. Surprise all your contacts! Plus, sending or sharing this cool ecard is totally free. A curious and funny way to introduce the little one to all your relatives!
Here's the new family member! Do you want to know his/her name? Pay attention to this stunning
ecard
!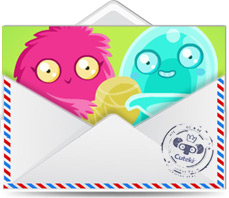 FREE Ecard for all Cuteki users. You can send this card free to anyone, without registration or payment of fees.

Share this card with your friends on facebook and twitter, with a direct link or by email.

Write and personalize this animated card with your own text. Surprise that special someone with your personalized message inside the ecard.