Ecard: Cute Halloween
Did anything move inside that grave? Oh sure, it's Halloween, the night of the dead! Today, the dead will rise from their tombs, the skeletons and skulls will take the streets and the zombies will crawl asking for fresh brains… so… if you can't battle the enemies, join them! After all, this tiny skeleton doesn't look creepy at all, does he? Well, if you ask the poor owl he won't have the same impression, he's so frightened!
Celebrate the scariest night of the year with Cuteki. Send this chilling animated and personalized ecard to all your friends and wish them a happy Halloween. You can personalize the ecard with your photo, which will become the skeleton's face! You'll see their faces when they see it… Amazing, right? You can also type any message you want to include into the animated ecard. Then all you'll have to do is send it by email or publish it on your Facebook wall.
This is a great, mind-blowing option if you want to surprise all your contacts and wish them a happy
Halloween
! Have a terrific night!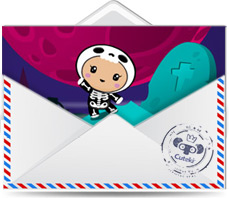 FREE Ecard for all Cuteki users. You can send this card free to anyone, without registration or payment of fees.

Share this card with your friends on facebook and twitter, with a direct link or by email.

You can customize your ecard with a face pic. Personalize it and make it unique, original and fun!

Write and personalize this animated card with your own text. Surprise that special someone with your personalized message inside the ecard.