Ecard: Halloween attack
Objective: the Earth. Plan: destroy humanity.
¡Mayday, mayday! The extraterrestrials are invading us! And they don't look very friendly, like ET… They don't seem to come to make peace. Do they want to abduct us all? Wait, I got a better idea… So the creatures from outer space have come to stay, right? Then join the party, guys! Not even the most evil extraterrestrial would be able to decline such a wonderful offer. Come on, Frankenstein, Dracula and Jack O'Lantern are already there. What are you waiting for to join those terrifying and renowned guests?
This Halloween, surprise everybody with your funny animated ecard! And if you're organizing a party to celebrate this night… use this scary ecard to invite everyone at your haunted mansion to celebrate this Halloween! Remind them that they have to come disguised and that there will be lots of surprises!
Leave all your friends petrified with this creepy
animated ecard.
Remember that you
can send it by
email or share it on your Facebook wall
. This way, all your contacts will enjoy the
ecard
! Wish a Happy
Halloween
with Cuteki!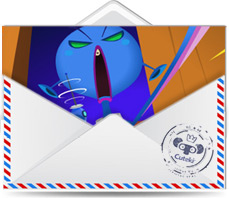 FREE Ecard for all Cuteki users. You can send this card free to anyone, without registration or payment of fees.

Share this card with your friends on facebook and twitter, with a direct link or by email.