Ecard: Happy Halloween
This is Halloween, this is Halloween…! Aaaaaw, the spookiest and funniest party of the year is here! Tonight, witches and spirits will walk the streets, the monsters and ghosts will knock on your door saying 'trick or treat?' and the hungry zombies will be waiting for you at your doorstep, asking for fresh flesh. Is there a full moon? Then be aware of the werewolves! And don't forget to hang some ails at the entrance, in case Dracula appears. And be careful, don't cross a black cat!
Have you already placed a pumpkin at the door? Did you choose your costume? Have you prepared a horrific menu for tonight? Good! Now all that's left to do is greet the party to everyone. Wish a happy (or should I say scary?) Halloween to everyone with this spooky animated ecard for Facebook and email! Can you imagine a better way? What, they're not scared?
Try with your most wicked laugh! Hahahahaha! Leave all your friends stunned with this jaw-dropping
animated free ecard.
Come on, don't you dare? Surprise your friends!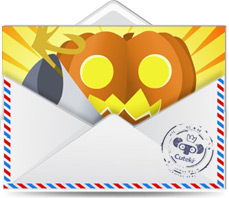 FREE Ecard for all Cuteki users. You can send this card free to anyone, without registration or payment of fees.

Share this card with your friends on facebook and twitter, with a direct link or by email.