Ecard: Brute
It's often said that "please", "thank you", "I love you" and "sorry" are the hardest words to say… sometimes you're a little bit brute and do things you later regret, but you are actually nothing, like this poor little character. If you've done something, you've fought each other and now you don't know how to apologize, this lovely animated ecard by Cuteki will surely help you.
As long as you can personalize it, you can write his/her name in the ecard and once you have personalized it very easily, you'll just have to share it on your Facebook wall or send it by email. And all for free! Come on, swallow your pride and say sorry.
We all have to learn to forgive, and although sometimes it's difficult, they will forgive you with this lovely
animated ecard
. How could anyone resist it, he's so cute…and look at his face, poor thing!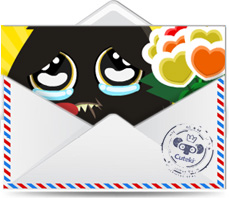 FREE Ecard for all Cuteki users. You can send this card free to anyone, without registration or payment of fees.

Share this card with your friends on facebook and twitter, with a direct link or by email.

Write and personalize this animated card with your own text. Surprise that special someone with your personalized message inside the ecard.