Ecard: The spell
Snake eyes, some worms, a bunch of spiders, a little bit of frog's spittle and… hocus-pocus! Wow, it seems that love has appeared between these funny characters. But you don't have to worry: with Cuteki you won't need to throw all these terrible ingredients into a magic pot to put a spell on him or her. Enchant your loved one with this unique animated love ecard and he/she will fall at your feet without any other dark enchantment.
You've never seen such an original ecard. In addition, it's the only one of its kind and totally exclusive, because you can personalize it with any message you want. After that, you'll only have to share it on your Facebook wall for free or send it by email to the person you choose. Tell them you love them with this awesome personalized ecard. Forget about spells: you'll just need the magic that Cuteki provides you! This animated love ecard is simply charming.
And remember: you'll only find it here, because you make it 100%
unique and personalized
. Don't think twice!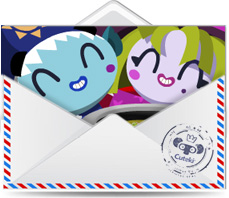 FREE Ecard for all Cuteki users. You can send this card free to anyone, without registration or payment of fees.

Share this card with your friends on facebook and twitter, with a direct link or by email.

Write and personalize this animated card with your own text. Surprise that special someone with your personalized message inside the ecard.